If you're like most people you probably have an old, dirty pair of shoes you wear when you're doing odd jobs around the house, going to the store or on Saturdays when you just don't feel like getting dressed.
I own several pair myself. I like to call them my throwaways.
I've been wearing my for over a year plus now and at this point their pretty beat and wouldn't dare try selling them to anyone else.
But what makes Donald Glover and Adidas think they can? Do they really think they can get away with selling tattered shoes?
Now you're probably wondering why Glover is selling dirty sneakers. And you are then you're not alone. 
"With this project I wanted to encourage people to think about how their stories can be told on their feet. Value isn't quantified by what you wear, rather the experiences from them" –Donald Glover
"The partnership for me is about being able to exemplify what doing your own thing truly looks and feels like."
While most brands would want to sell something pristine and clean Glover is putting more emphasis on the stories people will tell when they wear his shoes. He's infatuated with the experiences shared and the value of those stories told by our feet.
And with a tattered style, Glover is pushing the envelope, encouraging shoppers create experiences and live life to the fullest in his shoes.
I know you're probably saying all that's great and all but what do the shoes actually look like?
While each shoes has it's own personality, all three kicks feature a cream-colored canvas with hints of white or tan leather and are frayed-at-the-edges to allude a pre-worn look.
But while they may be similar in style they all have their own unique story. 
The Continental 80 DG ($100) was inspired by indoor sneakers from the early 80's and it's style reflects just that of a vintage Adidan from decades ago.
There's so many nostalgic overtones one might flashback to younger days. This shoes features a swooping stripe and a retro Adidas logo next to the laces. And let's not forget the split rubber cupsole lined with French terry for the ultimate throwback feels.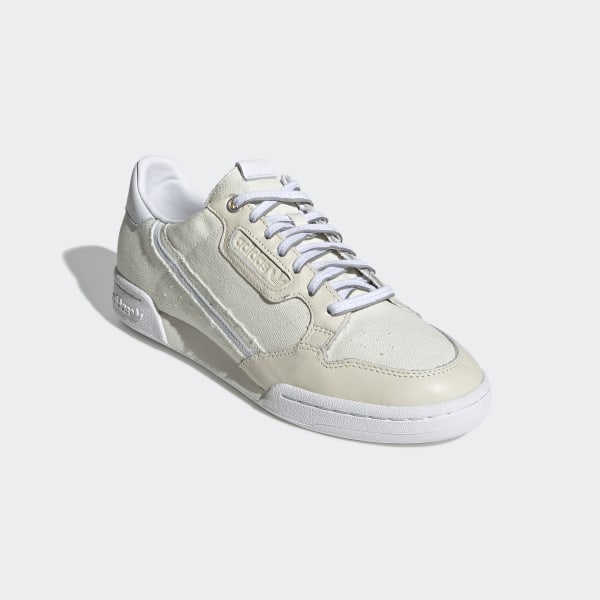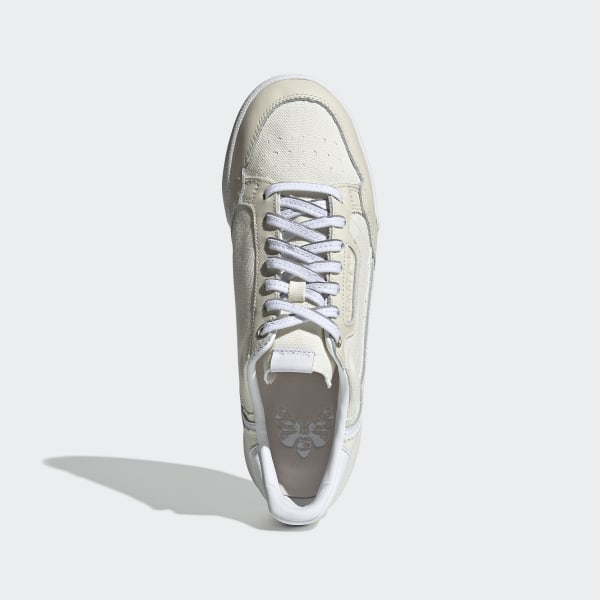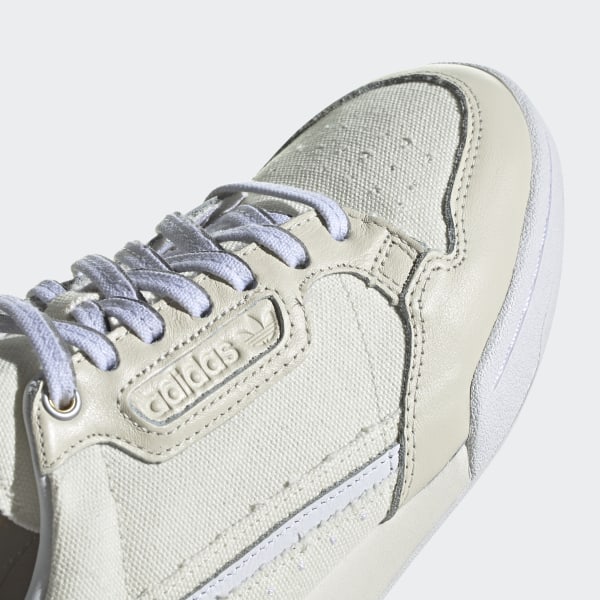 The Nizza ($80) is my personal favorite. It got its first debut on the basketball floor in the 70s and continues to be a classic til this day.
The best part of this show is the vulcanized outsole and rubber toe bumper which makes for a great contrast with the frayed cream upper.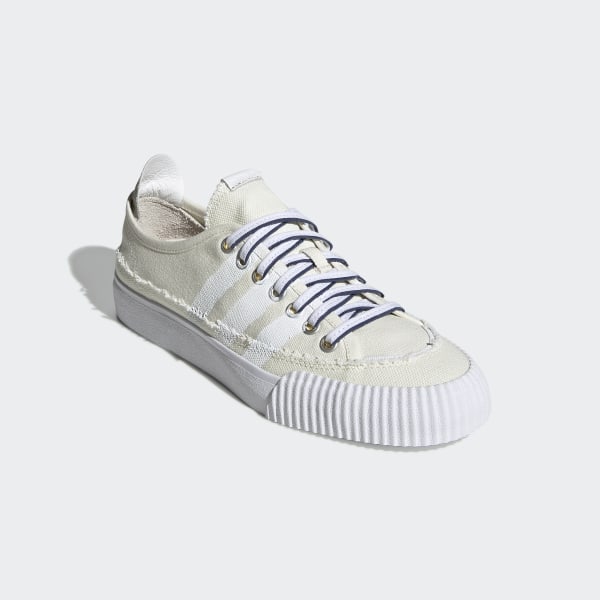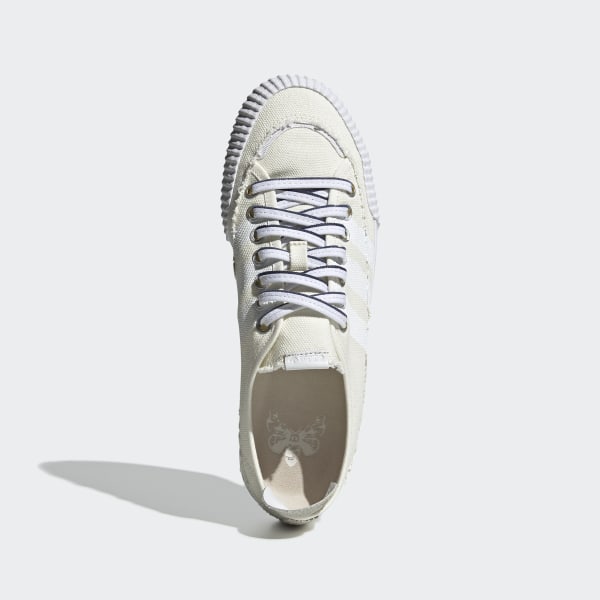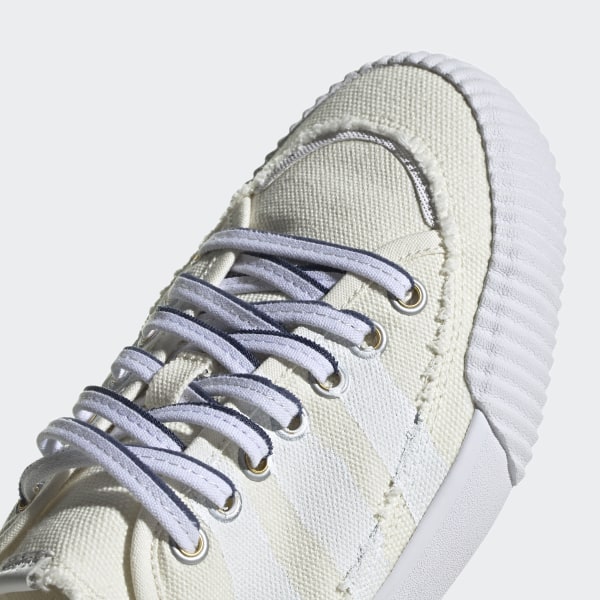 The Lacombe ($90) is another shoe that got its inspiration from the court–it just wasn't the hardwood. These shoes were inspired by vintage Newcombe shoes worn by tennis players. 
It's the cleanest shoe out of the collection given it's crisp simplistic style and thus calls for a little more attention to detail. Like all the others it has a cream cream-colored upper but instead of a tattered canvas the laces and the tongue are the ones to appear taking on the abuse.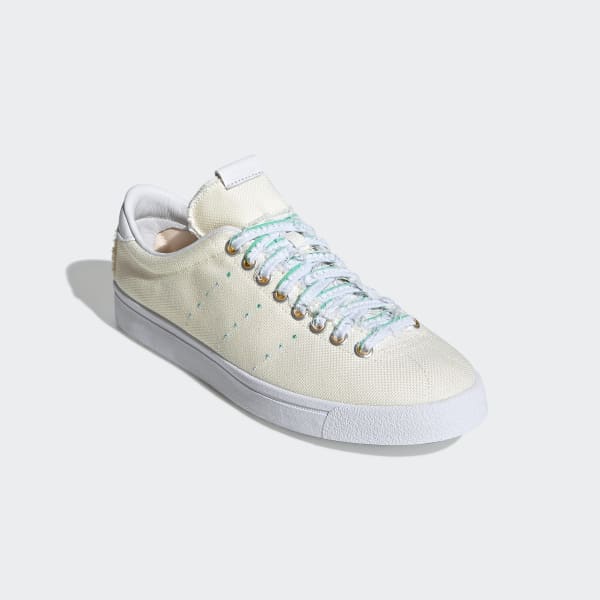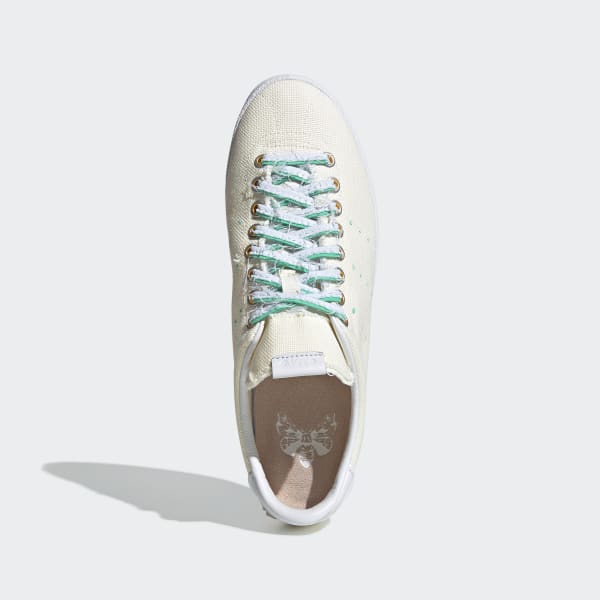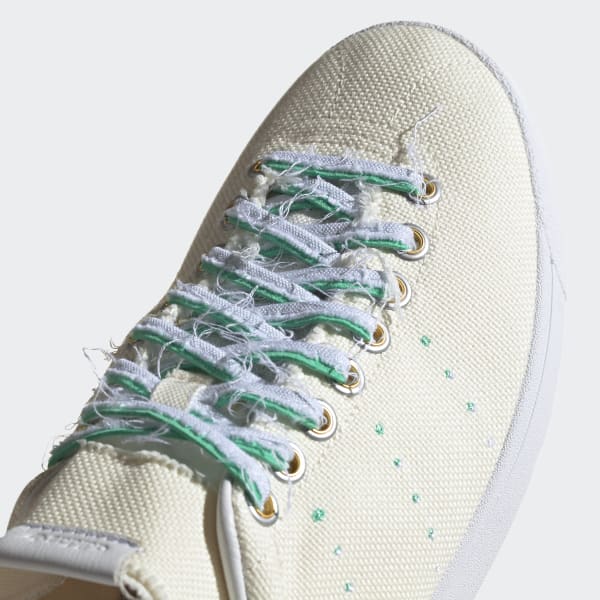 But where would you wear shoes meant to accumulate stories and experiences? Coachella of course.
During Coachella, received a notification from wanted to airdrop them a photo and whoever accepted the photo received a pair of the Nizzas (my personal favorites).
those who received the shoes were given a contract that started the promised to wear the shoes, show up at Glover's set, and keep the sneakers on for the rest of the festival.